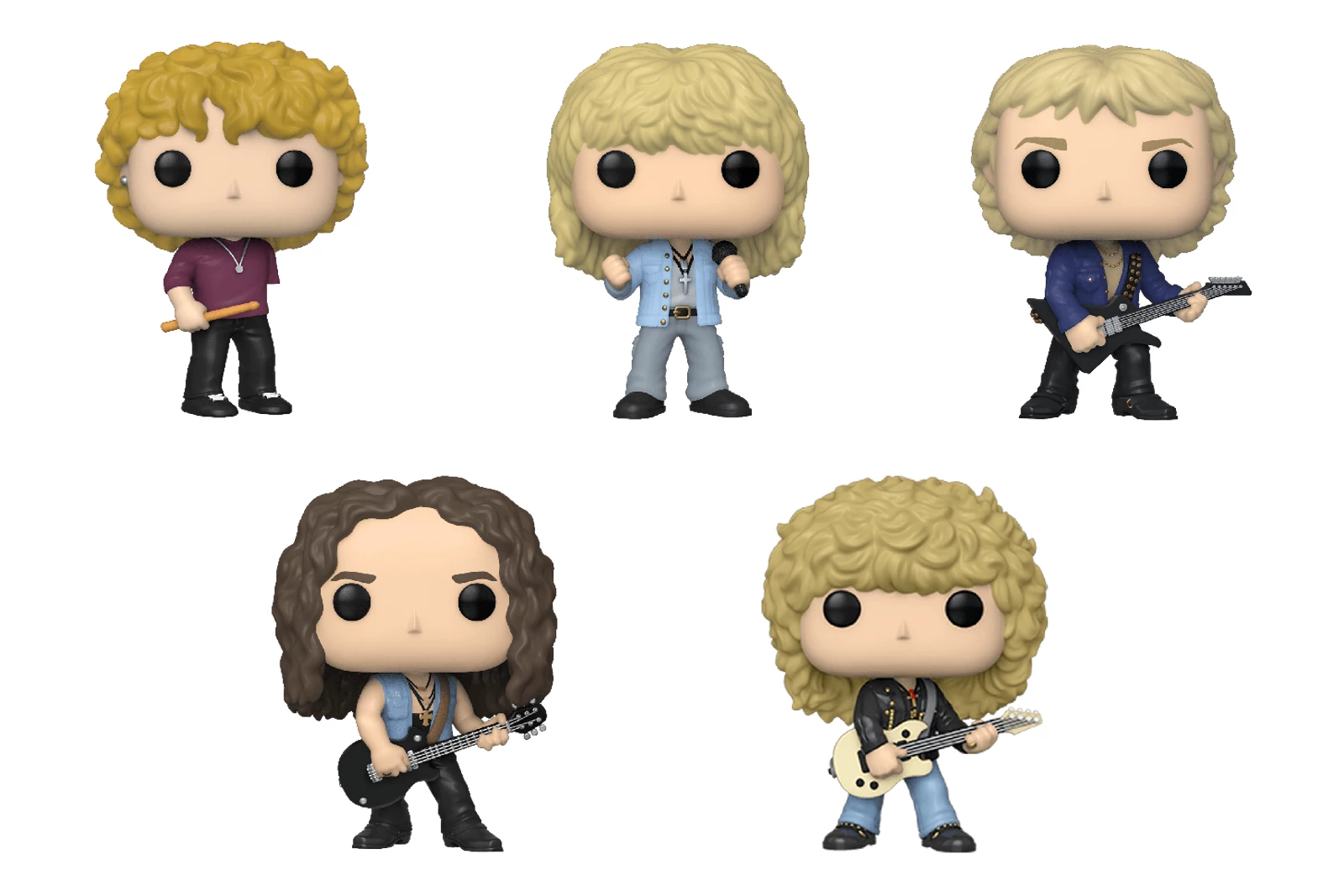 Def Leppard are the latest rockers to have their likeness captured in Funko Pop! form.
"Bring a massive sound wave of new wave British heavy metal to your collection," proclaims Funko's blog post promoting the new collectibles. The set includes plastic versions of singer Joe Elliott, drummer Rick Allen, bassist Rick Savage, guitarist Phil Collen and guitarist Vivian Campbell.
The items will be sold individually and are available for pre-order now.
It's has been a busy year for Def Leppard. The band enjoyed a successful Las Vegas residency and has already expressed interest in returning to Sin City for further engagements. Meanwhile, Elliott recently revealed plans to release a new live album, capturing the group's 1980 performance at the New Oxford Theater in England.
"It's warts and all, it is what it is," Elliott noted during an interview with Eddie Trunk. "It's us live in 1980. We were discussing off-mic … about lip-syncing or overdubbing. … You can't have it. You can't expect a 59-year old me to go in and clean up a 20-year old vocal. You know what I mean? So, it is what it is. But I tell you this much: The band, as I said in the liner notes, when you peer through the curtain of uncertainty that my voice was back in those days, there is a fantastic band onstage. And the two-arm Rick Allen with [bassist Rick Savage] was some rhythm section to come, considering he was 16 years old and Sav was 17, I think, maybe 18. And Pete [Willis] and Steve [Clark] were 17 and 18 years old. It was some band."
In addition to the Def Leppard figures, Funko has also lined up a Police three-pack, celebrating the group's 1983 album Synchronicity. The set captures Sting, Stewart Copeland and Andy Summers colored yellow, red and blue, an homage to the LP's cover art.
See many more rock-inspired Funko Pop! figures in the gallery below.