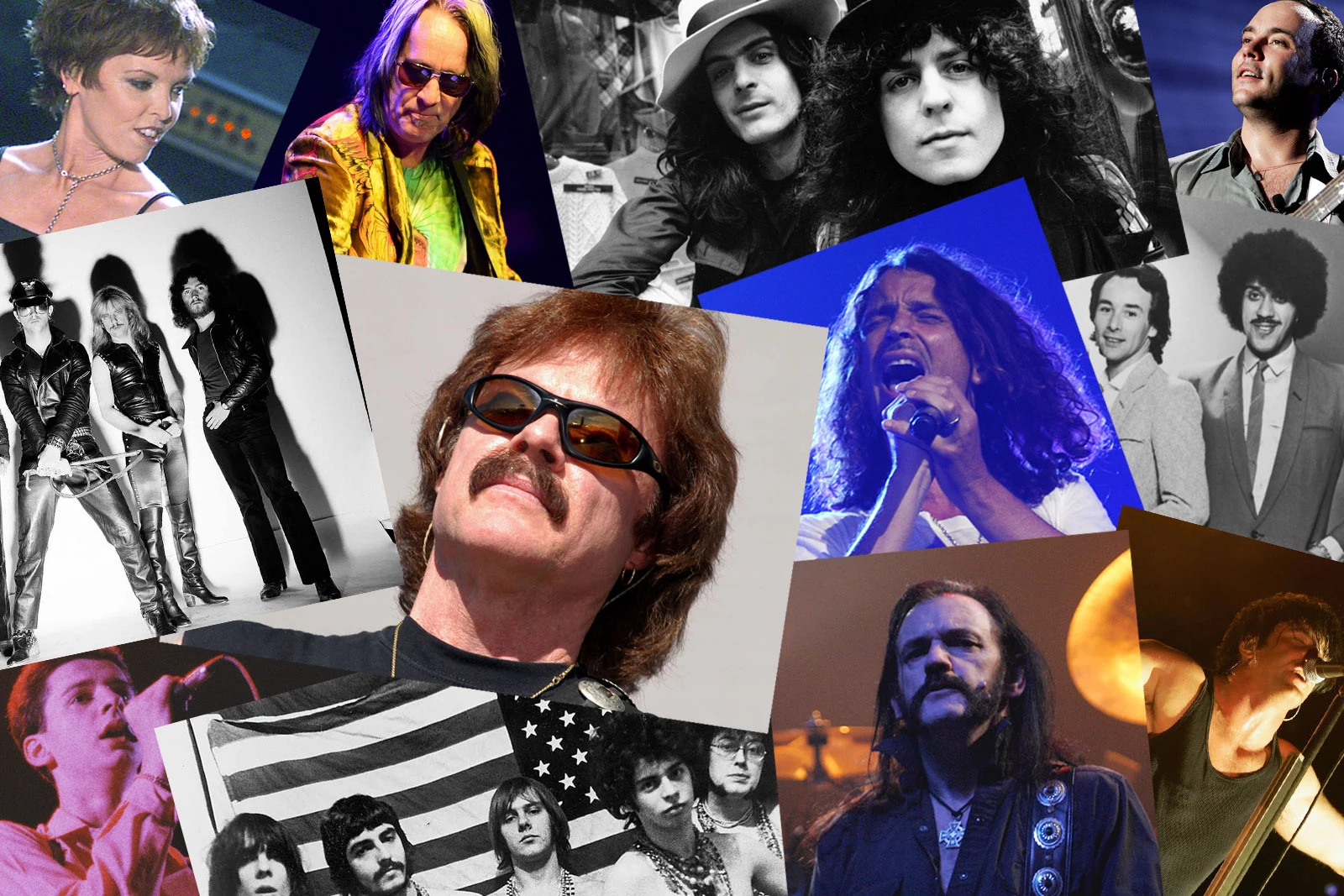 The Rock & Roll Hall of Fame has announced candidates for the Class of 2020. First-time nominees include the Doobie Brothers, Soundgarden, Motorhead, the Dave Matthews Band, T. Rex and Thin Lizzy.
Judas Priest returns as a nominee for the second time. Also on ballot are Pat Benatar, Depeche Mode, MC5, Nine Inch Nails and Todd Rundgren, along with Whitney Houston, Kraftwerk, the Notorious B.I.G. and Rufus featuring Chaka Khan.
Honorees will be announced in January. The 35th annual induction ceremony follows on May 2, 2020 at Public Auditorium in Cleveland, Ohio. In the meantime, we're discussing how this class potentially shapes up, any notable surprises and – as per usual – the year's super-frustrating snubs:
1) What do you think of this year's class of Hall of Fame nominees overall?
Michael Gallucci: It's pretty much what I expected, following the template of the Rock Hall's choices these past few years: a few catch-up with old-timers, a couple "newer" artists to show the voters' music tastes didn't stop in 1979, one hip-hop artist, at least one chart-topping female artist and a few bands only rock critics listen to.
Matthew Wilkening: It looks like the wider-net evolution that incoming Rock and Roll Hall of Fame chairman John Skyes has been talking about in recent weeks won't kick in until he takes over next year. This list of nominees follows nearly the exact same template as its recent predecessors. All but a small handful of the acts fall in the extended rock family, and at least half of them fit quite comfortably on classic-rock radio. This isn't really a complaint, there are still many deserving older acts that should get inducted before the voting shifts more heavily towards younger generations.
Nick DeRiso: Certainly seems to be a pattern, where the Rock Hall – despite stated plans to do things a new way – mixes and matches remaining classic-era figures and more recent rock bands with next-gen R&B, female and hip-hop ballot entries. So far, at least, the subtext remains: They're trying to right some long-standing wrongs, starting with at least five deserving first-time nominees. It's about time.
Martin Kielty: There's a lot of "cult" action and a surprising British leaning in terms of what most people would think of as rock artists. It's a rather "worthy" list too – lots of names that people have always said SHOULD be in the Rock Hall. It's likely to split the vote and draw attention to the Rock Hall from many people who'd previously given up on it. Given incoming chairman John Sykes's comments about creating a "Hall 2.0" in the coming years, is it a bid to right some wrongs before moving away from traditional rock for good? I have no idea…
Corey Irwin: This feels like a year where the Hall is playing catch-up for some overdue, but still very deserving, artists who have been previously denied nominations. Looking at the first-time nominees, I see many musicians who were perennial members of the "snubbed" list, most notably Motorhead, Soundgarden and the Doobie Brothers. There will always be critics who complain about the "non-rock" acts – in this case Houston and Notorious B.I.G. – but that refrain is getting pretty tired. They were trailblazers in their respective genres, so I'm happy to see their inclusion.
2) Who's the most surprising inclusion?
Gallucci: It's a tossup among Pat Benatar, the Doobie Brothers and the Dave Matthews Band. None of those artists are exactly critical faves, and all go against how the Rock Hall originally approached the classes back in the day. But ever since Journey got in, the doors are open way, way more now. Hard to say which of these three potential nominees had the shortest lifespan as a viable recording artist. The Doobies had about six years where they were mildly interesting; Benatar about five. Matthews has even less than that. And none is particularly influential.
Wilkening: Whitney Houston seems like the oddest choice on first glance, simply because her biggest hits are such pop-heavy confections. But her success played a big part in paving the way for a gigantic and often impressive wave of female R&B singers, so fair enough. It's predictable but still wrong that the bland, safe Dave Matthews Band would get a nomination before the more artistic, weird and influential Phish, who've been eligible for five more years.
DeRiso: There are actually several, including Whitney Houston and the Dave Matthews Band. But the arrival of T. Rex on the ballot was completely unexpected. The Rock & Roll Hall of Fame has more typically been the American Rock & Roll Hall of Fame, and T. Rex were never a stateside commercial juggernaut. As such, it's hard to imagine they'll make the cut. Still, nice to see them recognized – if, for no other reason, their sweeping influence on successive bands that are already in the Rock Hall (or should be).
Kielty: T. Rex by a country mile. Much as I love Bolan and everything he did, I've always been under the impression that he was at the very least misunderstood in the States. There was much, much more to his work than the straight-ahead glam rock he's most known for, and of course he died while just on the verge of climbing out of a mid-career slump. I'm nearly as surprised by the inclusion of Motorhead and Thin Lizzy too, though – as I suspect their surviving members will be, as well.
Irwin: I was pleasantly surprised to see T. Rex on the list. They have been Hall eligible for more than two decades, but just now find themselves as nominees for the first time. Though the glam-rock pioneers only had limited commercial success in the U.S.A., they produced a steady stream of chart-topping hits in the U.K. throughout the '70s. More importantly, their legacy has resonated through multiple generations of musicians, with R.E.M., Oasis and the Black Keys among the many bands citing T. Rex's influence. I can't imagine they'll garner much public support, but many fellow musicians will sing the band's praises. This is my dark horse pick for 2020 induction.
3) Who's the most surprising snub?
Gallucci: Jethro Tull and King Crimson's continual snubbing by the Rock Hall remains baffling. Both were instrumental in fostering genres and artists that have long been represented by inductees, so why aren't these pioneers in? Personally, I'd love to see Big Star, Harry Nilsson and Warren Zevon get their shot. Then we can talk about Pixies, the Replacements and the Smiths.
Wilkening: Rage Against the Machine's continued exclusion is baffling, and does not fit the pattern of who the Rock Hall has let in and kept out over the years. You'd think their fans would be exactly who the organization would want to court right about now. Motley Crue led the informal fan vote at the Rock Hall Museum much of the year, but apparently they'll have to wait for a new and hopefully friendlier regime. Iron Maiden is highly deserving, but it's hard for a metal or hard rock fan to complain this year, with Judas Priest and Motorhead getting nominations. Maybe they're waiting for the induction ceremony's presumed 2021 return to Brooklyn's massive Barclay's Center, seeing as how Maiden sold out the same venue two nights in a row all by themselves earlier this year.
DeRiso: King Crimson. They have genre-sparking early credentials with Greg Lake, made important records in the '70s with John Wetton, roared back after completely modernizing their sound in the '80s with Adrian Belew, and continue under the quirky guidance of Robert Fripp to this day. Unfortunately, prog – save for acts that became more pop leaning like Genesis, the Moody Blues and Yes – continues to walk the Hall of Fame wilderness.
Kielty: Having got used to "surprising snubs" over the years, and come to think of the selection committee as a group of people responding to very particular waves of thought running through a very particular part of the music industry in a very particular moment, I don't really do them anymore. I suppose I'd say Iron Maiden, especially in a year of so much Britishness; but I can't see that working out for the Rock Hall, and so maybe it's not really a surprise at all.
Irwin: It's getting repetitive to say Iron Maiden, but … Iron Maiden. The schism between the band and the Hall has been well documented, but at some point the feud must end. The group is just too talented, iconic and important to be shut out forever. I'm also looking forward to the day Rage Against the Machine finally get their due.
4) Who do you most want to see inducted from this class?
Gallucci: Kraftwerk, Nine Inch Nails and T. Rex would get my first votes. They all pretty much paved the way for other artists in their respective genres. But I wouldn't have a problem with Depeche Mode, MC5 and the Notorious B.I.G. – artists who also carved out huge inroads in their genres, for better or worse.
Wilkening: Judas Priest, my top snub from last year's ballot. They helped define and then re-define heavy metal three times over the years, and have maintained a high standard of excellence for five decades now. Not to jinx anybody, but it might be nice to induct the Doobie Brothers while so many of the principle band members and alumni are still enjoying active touring careers. It's too late for the nominated members of Motorhead to receive that same honor, but there's no point in waiting any longer on that front either.
DeRiso: Unfortunately, a pair of these make-good attempts are simply too little, too late. Quite frankly, Soundgarden should have gone in last year. And, yes, all three of Motorhead's nominated members are dead. That said, both remain fine candidates. Can T. Rex sneak in? Highly unlikely, but how cool would that be? Nine Inch Nails, Depeche Mode and MC5 should get similar consideration, considering how important they were in their respective genres. As an old-school rock act, the Doobies would round things out nicely.
Kielty: Motorhead, T. Rex and Thin Lizzy – that was the soundtrack to my early years and as much for Lemmy, Marc Bolan and Phil Lynott as people as the music they made. And of course they were all very, VERY rock 'n' roll.
Irwin: Soundgarden belongs on the grunge Mt. Rushmore, alongside Nirvana and Pearl Jam. With the latter two both already inducted, it seems natural that Soundgarden join them in the Hall. Obviously there's an emotional weight that comes with Chris Cornell's absence, but I think the ceremony could turn into a celebration of his life, similar to last year's star-studded "I Am the Highway" tribute. Trent Reznor's groundbreaking work with Nine Inch Nails warped genres in a way not seen before or since. After harshly criticizing the Hall in the past, he inducted the Cure at last year's ceremony. He's always had the resume and now that he's playing nice, there's no reason to continue denying his induction. Depeche Mode have the commercial hits, sales figures as accolades one looks for in a Hall of Fame artist. This is their third appearance on the nominees list and the timing just feels right, especially with the Cure having gotten their induction last year.
5) Who do you think will get inducted from this class?
Gallucci: Nine Inch Nails, the Notorious B.I.G., MC5, Motörhead and Todd Rundgren. All seem like choices that represent the Rock Hall's recent move toward keeping mainstream music fans happy while also catering to historically significant artists and outlying genres. (That said, I can see Soundgarden replacing Nine Inch Nails or Motörhead to fill requirements.) In fact, this would be a pretty smart selection for a class, so while they may not dumb it down with someone as insignificant as Matthews, it wouldn't surprise me if either Benatar or the Doobies, both safe commercial choices, made the final cut.
Wilkening: Judas Priest, but maybe I'm just being hopeful. Nine Inch Nails, and it could be that Trent Reznor's excellent induction speech for the Cure last year helped seal the deal. Pat Benatar and the Doobie Brothers. The Notorious B.I.G., although they should have done it in his hometown of Brooklyn last year. I suspect Houston wouldn't be on the ballot if she didn't already have enough support to be inducted. Soundgarden would be a nice and deserved gesture, and in retrospect it's probably good and more respectful that they didn't rush to make that decision after Chris Cornell's untimely death.
DeRiso: The Doobie Brothers, Nine Inch Nails, the Notorious B.I.G., Whitney Houston and Motorhead. Reznor's appearance last year points to a thawing of ice-age level chilliness. Biggie and Houston feel like juggernaut candidates, even if I don't really agree with the Houston candidacy. Motorhead might be wishful thinking, but that – coupled with a very-safe pick like the Doobies – would keep the "rock & roll" in the hall of fame's big night. With emotions still running high, it wouldn't surprise me if Soundgarden replaced Motorhead.
Kielty: I'm really struggling to answer that one. I'd guess one of the three Brit icons – Motorhead, T. Rex or Thin Lizzy – will make the cut. Then probably Rufus featuring Chaka Khan because third time's the politically embarrassing charm. Whitney because once you name her you've kinda said "Beetlejuice" and, I suspect, the same for Notorious B.I.G.; and then Soundgarden or NIN but probably not both. I retain an interest in political intrigue and strategy in arts and sports, but this year, more than any other year recently, that's my main interest in the longest.
Irwin: Judas Priest finally get the nod, thanks to another emphatic fan campaign along with improved support in the voting committee. The Notorious B.I.G. will be inducted in his first year of eligibility, following the same path as the rapper with whom his life and career will be forever intertwined, Tupac Shakur. Soundgarden and Motorhead both get in, with T. Rex being the unexpected "wild-card."