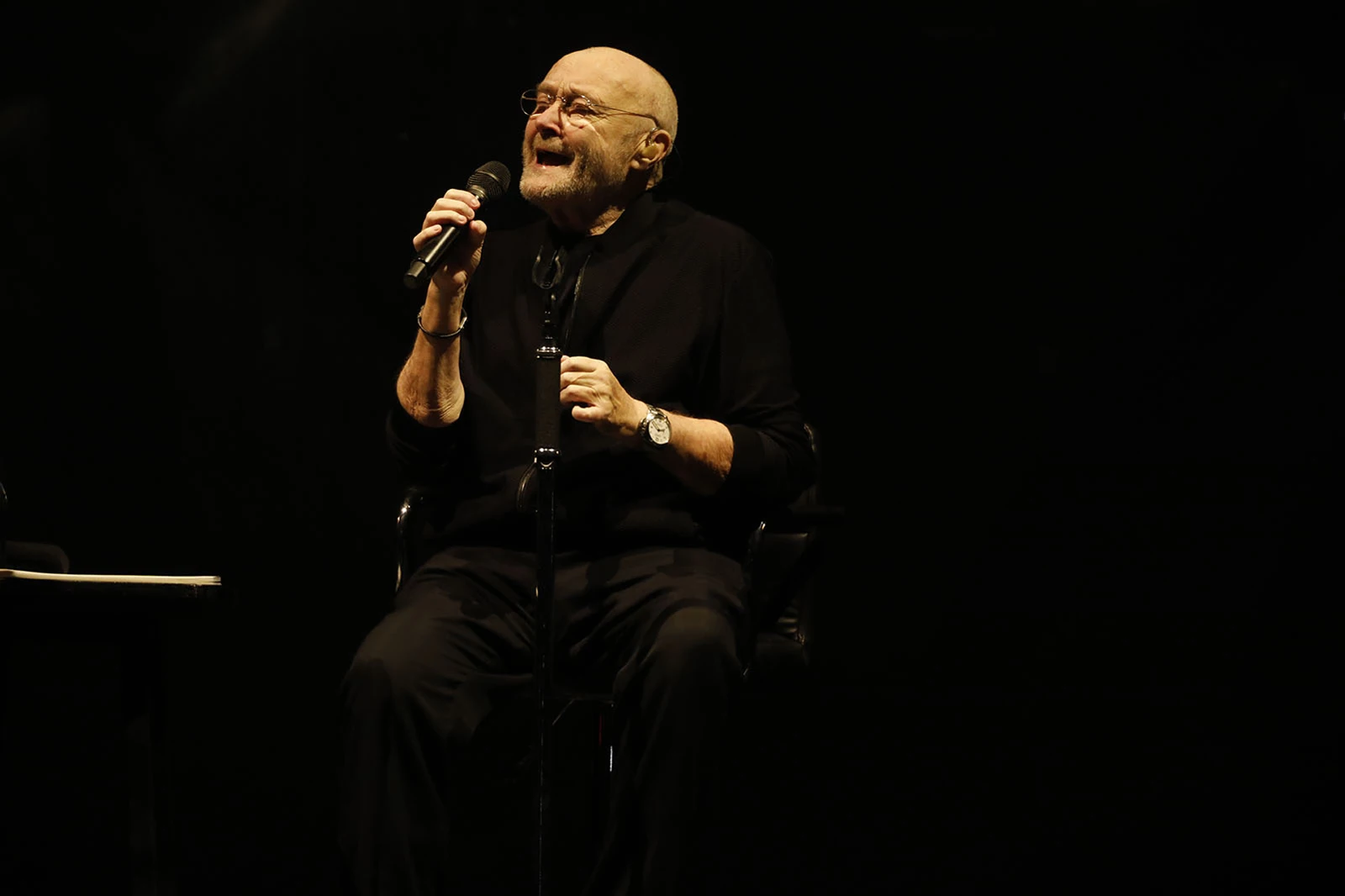 Phil Collins brought his Still Not Dead Yet, Live tour to Phoenix's Talking Stick Resort Arena on Oct. 15. You can see our exclusive photos from the show below.
The evening began with a slideshow of Collins throughout the years. Then, he came out, with the assistance of a cane, and, standing in front of a curtain, told fans that he would have to sit for most of the show because of his longstanding back problems. From there, he went into "Against All Odds (Take a Look at Me Now)," after which the curtain dropped, revealing a 14-piece band, which included four horns and four backing vocalists.
The bulk of Collins' 19-song performance was comprised of his many solo hits, with three songs — "Throwing It All Away," "Follow You Follow Me" and "Invisible Touch" — coming from his time fronting Genesis. Collins also reminded the audience of his skills as a drummer, playing percussion during a drum trio with his son Nicolas and Richie Garcia. The main set closed with "Sussudio," and "Take Me Home" served as an encore.
Collins' tour, his second in North America since he came out of retirement in 2016, concludes tonight (Oct. 19) at the T-Mobile Arena in Las Vegas.
Phil Collins, Talking Stick Resort Arena, Phoenix, Oct. 15, 2019 Set List
1. "Against All Odds (Take a Look at Me Now)"
2. "Another Day in Paradise"
3. "Hang in Long Enough"
4. "Don't Lose My Number"
5. "Throwing It All Away"
6. "Follow You Follow Me"
7. "I Missed Again"
8. "Who Said I Would"
9. "Separate Lives"
10. Drum Trio
11. "Something Happened on the Way to Heaven"
12. "You Know What I Mean"
13. "In the Air Tonight'
14. "You Can't Hurry Love"
15. "Dance Into the Light"
16. "Invisible Touch"
17. "Easy Lover"
18. "Sussudio"
Encore
19. "Take Me Home"